Webinar: How Wovenmedia & Sharp/NEC Revolutionized Floor-Projected Video at Big-Box Retail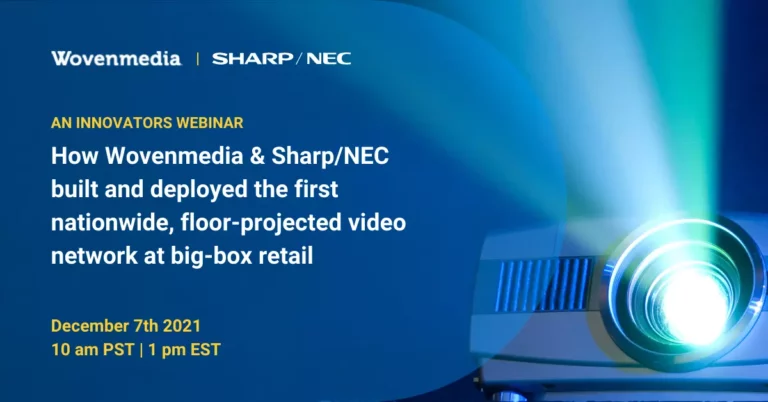 In today's competitive world, retailers are looking to tech to stay one step ahead of the competition. Join Wovenmedia's Director of Sales Neel Jacobs and Drew Walls, Account Manager/Retail in conversation with John Moezzi, Sharp NEC Display Solutions' National Account Manager/Retail to discuss how Sam's Club successfully deployed ceiling-mounted laser projectors across half its chain in just six months, and how they are using this solution to enhance the member experience.
Holding a leading position in the display market, Sharp/NEC offers a comprehensive and solution-oriented portfolio like no other vendor today. Along with Wovenmedia's industry-leading Content Management System, the two companies have turned unused floor space into a dynamic, powerful, and new promotional platform, with monetization opportunities for every big-box retailer.
Join us on Tuesday, December 7th at 10 am PST/ 1 pm EST. The session will discuss how advancements in laser projection technology make projecting video from high distances more effective than ever before. Learn how using floor-projected video can boost sales when placed adjacent to related products, help with wayfinding in large retail spaces, and enhance the shopper experience.