How To Make Your Business More Eco-Friendly in 2022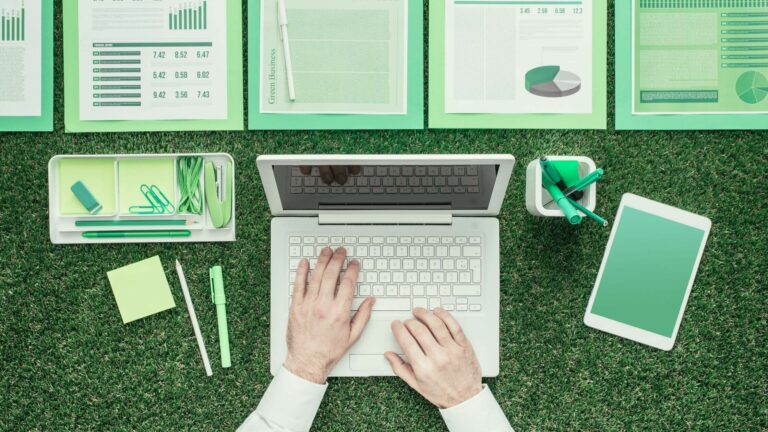 Green is the new black. As more and more people wake up to the importance of sustainability, they're choosing to make buying decisions based on how green and ethical a company is. For business owners, this means you can get away with higher prices than your competitors while attracting more customers by meeting their demands for sustainable products and services. In a recent Global Trends Survey, 73% of millennials said they'd factor whether a business was ethical before making a buying decision. And by 2022, 83% of consumers will base their spending decisions on social and environmental ethics.
Five years ago, going green would have given your company a competitive advantage. But in five years' time, many companies' survival may be reliant on the environmental decisions you make today. "Going green" can feel like a daunting task, but we have laid out 5 steps to get you started on how to make your business more eco-friendly.
1. Set clear goals for your business
Start with a plan on how you can go green within your business. Begin with non-specific ideas and narrow down the plan with achievable and affordable goals that work for you.
Think big but start small. If you start with a large project it may begin to affect your business output, your team morale, and your finances. It's better to make small first steps towards larger goals. Understand that change takes time if you want to get it right and keep it up.
Involve every member of your team. Not only does involving your team keep everyone on the same page about company changes, but they might also have ideas you never thought of. No one knows your business better than the people who work within it every day.
There are lessons learned in failed plans. Sometimes, plans fall through. A change might be lowering productivity levels or causing unneeded issues within your business. Remember it's okay to pull back, reimagine the idea, and then move forward better informed next time.
2. Use local and sustainable suppliers/partners
Learn to love local. Not only is using local sustainable suppliers good for the environment as you cut down on transport, but it's also good for your community. When you put money and business back into your local area, you're improving the lives of those around you while creating a loyal customer base. This means it's great for you, the planet, and your local area.
If you must go further afield for your materials, try looking for sustainably sourced suppliers and partners who care as much about the environment as you do. Make sure to take the time to research and inspire your partners.
3. Go green by using digital signage
Signage and marketing materials can fall behind when you're making the move to a greener company. Traditional signage needs to be printed, transported, and is then usually thrown out after a couple of weeks or even days. Digital signage cuts out many of those unsustainable practices. Since digital signage uses screens, no paper is wasted when changing signs out for sales or holiday events. You can also cut out the financial and environmental cost of transport, as digital signage can be streamed from just one computer to thousands of screens across the country.
Digital signage has many benefits if your company is trying to go green. Here are only a few:
Signage screens use less energy than traditional alternatives.
Digital signage systems can run remotely and don't need as much hands-on management.
These types of signs are more versatile than traditional ones. Which means they can be used in more places and for more purposes.
A major advantage over static alternatives is that screens can be updated quickly. They can show different messages as soon as needed.
4. Involve employees by setting up green initiatives
Cycle to work schemes, bringing your own reusable coffee cups, and other green initiatives are great ways to make your employees feel involved and part of the green movement. Try to involve your employees as much as possible, but also make it as easy for them as possible.
Bank of America has introduced various steps for their business, including investing more than $200 billion in financing low-carbon and sustainable business activities across the globe. However, they also heavily involve their employees, with initiatives such as the My Environment® program, as well as employee reimbursement programs and environmentally focused volunteer events.
5. Find environmental certifications
Sustainability certifications can give your staff a sense of achievement. And they also build trust between you and your customers.
There are so many different sustainability certifications out there, so how do you know which one you want to go after? It really depends on what your company can achieve, or what will matter most to you and your customers.
Greenbiz breaks down which certifications are worth going after because in all cases, it really depends on what your company can achieve, or what will matter most to you and your customers.
Going green starts with small sustainable steps that work for you, your business, and your employees. Consider all elements of your business process to find where sustainable swaps or improvements can be made.
Wovenmedia solutions are a flexible and completely turnkey way to bring the power of video to your customers. From consultation to content creation, equipment delivery, installation, and ongoing monitoring and support. We deliver everything you need to successfully implement and manage your digital signage network. Get in touch with our team of experts today to learn more.
Written by Alexandra Wyllie