How to Use Digital Signage for Corporate Communication
Digital signage uses LCD, LED, and projection to display digital content. This can include images, videos, weather data, restaurant menus, or text. Digital signage has many applications, like internal communications, public health and safety guidelines, or sharing product information to help enhance customer service and brand recognition.
Given the interactive nature of the screens, especially with video content, people are more likely to not just look and read digital signage but remember what they saw.
Why use digital signage for corporate?
The world is changing, as are all industries. Information moves faster than ever these days and traditional signage cannot keep up. This has been especially true for the last two years, as the world faced the effects of Covid-19 in all aspects of life, including workplaces.
As people begin to go back to the office, they want to feel safe and protected by their company. A key factor in feeling safe is being informed about what's in place to minimize risks. Digital signage offers a way to easily update your staff with briefings and regulations. Yet, digital signage is not only about safety updates. The screens can share any information effectively and quickly.
In general, companies have been using traditional ways to communicate. Like emails, specific meetings, and even physical boards in the office. But customers and workers expect more from businesses, and that's why new technologies and innovation are so important to keep people engaged.
We rounded up the specific reason why digital signage is so useful within the corporate setting, as well as ideas on how to use screens to get your message across.
Build relationships with your workers
Unlike traditional forms of communication, in the office, many workers see these screens at the same time. These screens can show messages that are office-wide announcements with the same message. Or personalized ones by office and department. These screens are easily updated by a centralized CMS by just one person, so recourses are not wasted.
With this, you can build a company culture of open communication and information.
Keep workers updated on company news
Big (and small) news in the company should be shared with your employees. It makes them feel part of a community, rather than just another worker. It also reminds them that their work is meaningful, as they can see what they achieved. Digital signage is a wonderful way to share news like new clients, updated processes, new hires, big sales, or even office birthdays.
Building awareness of your successes and updates also builds trust with your employees, as well as pride in their company. Not to mention that employee retention increases 4.5 times, compared to businesses that lack effective communication in the workplace.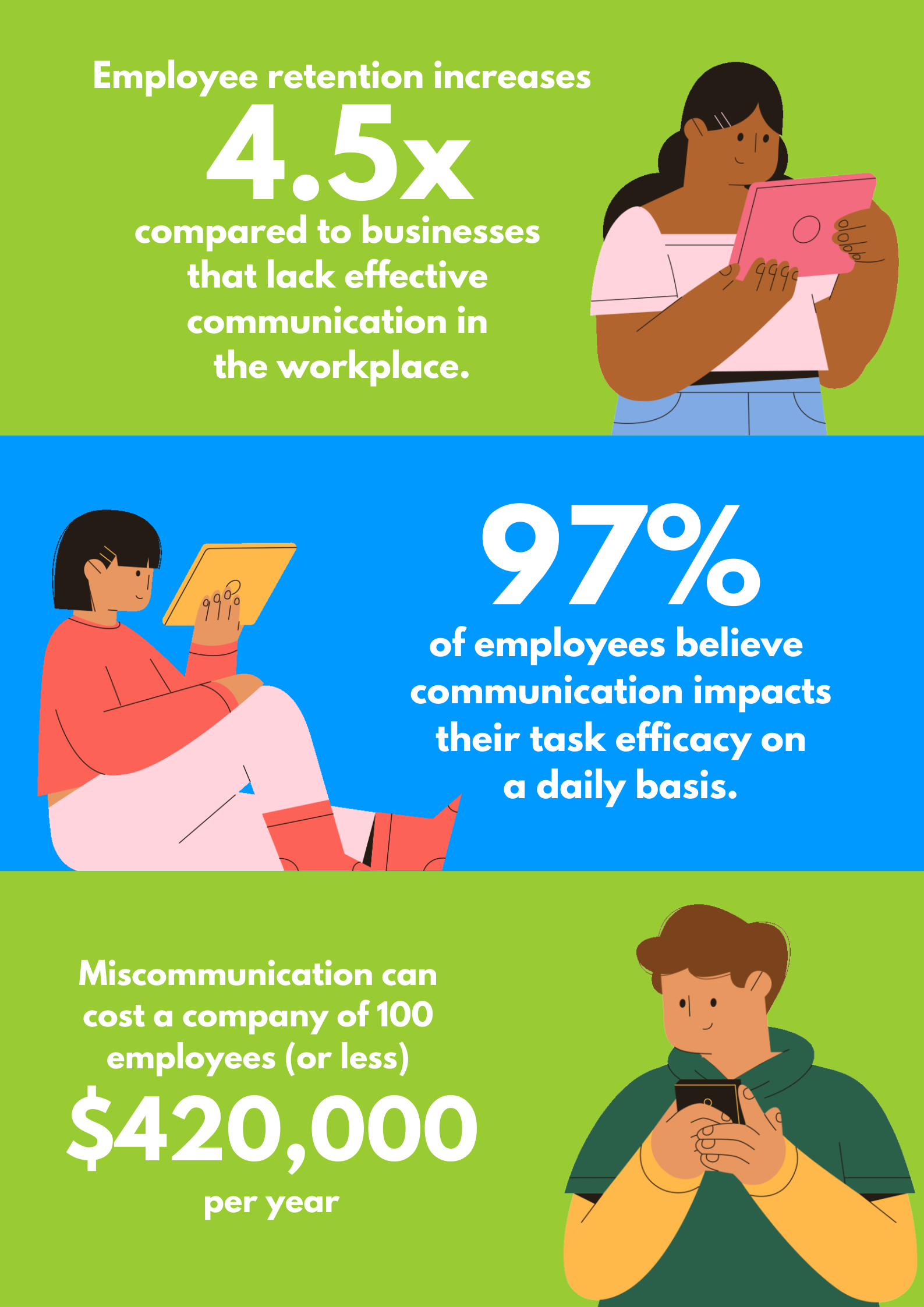 Ideas for corporate communication using digital signage
1. Latest news awareness
Besides bringing awareness to COVID-19 policies, you can keep everyone updated with the latest news and trends related to the industry or show company news and policies in real-time.
2. Create social media feeds
Leverage your audience and take advantage of social media. Share your social side with live feeds or hashtags on your screens. This helps to become part of the conversation and connect with employees in a meaningful way.
3. Show latest product updates
Ensure everyone knows about the latest product updates so they can test and promote them. If you have a new promotion or ad, share it! You can even share what your customers are saying about this by displaying the feedback you are getting. This offers valuable insight for employees, as well as makes them feel like valued team members.
4. Training
Keeping your workers up to date with the latest qualifications is a must-do. To do this you can show short training videos for your workers. Screens can be a more engaging way for your employees to pay attention, be interested in the training, and be more likely to retain the information.
5. Encourage workers and increase engagement
Share corporate events, congratulate workers, or celebrate birthdays. You can target certain screens to show these messages to make sure they are where they are needed. Employees can feel appreciated and recognized which reduces the chance of employee burnout.
Want to learn more about digital signage for the workplace?