How Digital Signage is Modernizing Hotel Stays
Picture this; your customer arrives at your hotel after a long day of traveling, their flight was delayed and they also missed a bus. For them, the worst part was always the lack of information; the flight boards were vague and unhelpful and the bus information was out of date. However, when they arrive at your hotel, thanks to your new hotel lobby digital signage, they know everything they need to know at a glance: from tomorrow's forecasted weather and nearby local events to the latest currency conversion rates and updated travel information.  
Digital signage is a powerful tool that will bring your hotel customer experience to the next level. There are so many ways hotel digital signage solutions can be used, here are a few examples of how it can improve your relationship with guests.
Keep guests updated about traffic, weather, and the latest news
Travel stress can ruin a holiday and one major contributor is lack of information. Make your hotel feel like the information hub by leveraging hotel lobby digital signage over old-fashioned brochures and catalogs. This could be on-site or on-property information, such as a hotel map or amenities listings, allowing guests to easily find their way. You could also offer the hotel menu, which can be easily updated whenever the menu changes or to include your chef special and much more.  
However, hotel digital signage also gives guests an opportunity to know more about the local area with a list of 'must-see' tourists destinations or nearby events and attractions that might otherwise be missed. Local weather reports help guests to plan ahead while travel information such as flights, bus times, and taxi information allows them to feel in control of their trip. 
Digital signage for entertainment
There is no denying, that from time to time, traveling is a waiting game. Waiting for taxis, waiting for the rain to stop, even waiting for friends and family before heading into the restaurant or the pool. However, digital signage can help ease that pain. Add value to your lobby environment using platforms such as WovenContent, which allows you to display engaging videos from all around the world and all around the web. This is not only your usual news program and information but providers such as E!, Fox Sports, and Disney, meaning you have a little something for everyone.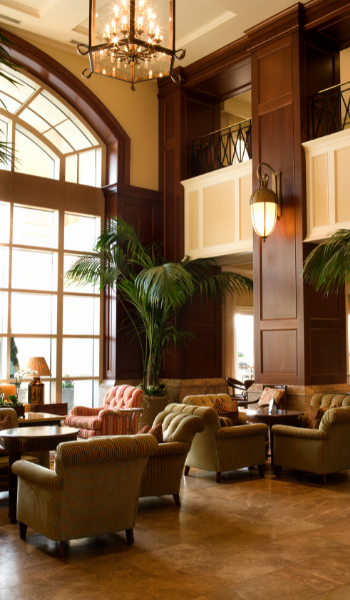 Train your staff using digital signage screens
Digital signage isn't just for customer-facing spaces. The use of screens for staff training is becoming more and more popular as the content can be updated easily. In the times of post-COVID, when travel has changed so much, it's important for your staff to be up to date and informed, and digital signage makes that easier than ever. Use breakroom screens to update and educate your staff on ever-changing health & safety protocols and practices.
Drive advertisement revenue
The wall space in your hotel is a valuable asset, why waste it? You can easily increase the internal revenues of your establishment by advertising. Show photos and video promotions of your own services and amenities or branch out and sell advertising space to local non-competitive businesses.  
Interested in trying digital signage in your hotel? Get in touch with your sales team today!
Written by Alexandra Wyllie